WORLD's 1st, LEADING, TRUSTED, TESTED, SAFEST, PATENT PENDING & VERSATILE
Designed to keep your Smart Kid, SAFE on the Move !


WORLD's 1st & LEADING
In 2009, we as parents like you faced the same problem that you are facing today. With the help of our Engineering team along with world class Designers through extensive research & development, designed the World's 1st KidSafe Belt. We believe in continuous improvement. so we constantly keep evolving to make KidSafeBelt the Safest and Reliable for your loved ones


TRUSTED
Trusted by Modern & Empowered Parents since the launch in 2010. Parents have Used and Trusted KidSafeBelt for a snug and secure ride. The best experience, is when parents THANK and let us know how much VALUE, KidSafe Belt brings in their life. This is always been the motivation for our team. Please feel free to check out what parents have to say from thier heart http://www.kidsafebelt.com/testimonials . Thank you Parents !


TESTED
Tested by SGS International for Strength, Fatigue and Durability. More Importantly Tested by Real Moms !
a. Strength - Multiple stitching designs are simulated using technology, validated, tested and the optimized design is selected to withstand the impact loading
b. Fatigue - Tested for multiple use cases and made sure the functionality remains the same
c. Durability - Since 2010, every batch has been tested and constantly iterated for durability so that even after using them for years, the belt is safe and secure for your loved one !


SAFEST
a. Optimized Stitch Design - The Stitch Design has been optimized for impact loading
b. Double Buckles for Extra Safety - For the Child and the Parent too
c. Non Allergic, Softer, Spongy & Premium Material - The material has been carefully hand selected to make sure the loved ones are not allergic but gives the needed cushion while providing adequate support
d. Four Point Belt - The belt holds the child firmly to the parent using the four point technique
e. Wider Thicker straps - To pressure if distributed to reduce the pressure that occurs on the child
f. High Breathable mesh - This helps the skin to breathe easily and could be comfortable for even long rides


PATENT PENDING
The innovative & Futuristic KidSafeBelt Designed for the Smart & Active Kids ! Once it is done, it looks simple, but before the start it was complicated as any new innovative product. Imagine the parameters – to be used on any two wheeler/bike/ scooter, parents/ grandparents, child seated front/behind, standing, seated, etc. More importantly safe, reliable and simple to use !


VERSATILE
Could be used on 1. Scooter or 2. Bike or 3. Car
Strapped when the Child is 1. Seated Behind or 2. Standing Front or 3. Seated Front
Adjustable Straps for 1. Child - The adjustable straps could be used from 2 years until 10 years of age. 2. Parents - Any waist size. If it does fit you, please let us know and we could also customize for you too !
Head Rest (Optional) - You know, kids are kids. Just in case your child is sleeping, we also have a Head Rest to support your child's Head !
Storage Pouch (Optional) - The folded belt could be tucked into the pouch which could be stored neatly
FAQ
We understand that as parents you will surely have plenty of questions when you are about to buy any product, more so, when it is directly related to your child's safety. We believe it is our duty to help you in addressing those questions, so that you could make the right choice for you and your child. Here, we have picked few of the most commonly asked questions from the parents. Hope this helps in making the right decision for your child.
1. How can KidsafeBelt help secure my child?
KidsafeBelt is a safety accessory which you can use while riding with your child on a two wheeler. The idea is to snug and strap your child to you, so that, even when you are focused on bad roads or traffic, your child does not lose grip and fall off the bike when you are about to lose control of the bike. It's also best to hear directly from other parents who are already using this product.
2. How secure is this belt, is this tested ?
We have an engineering research and developement team who started of with the challenges like the child has to seated front, behind, expandable to a certain age, durable materials, strong buckcles, reliable stiches, durable, not strained due to multiple uses (fatigue), etc and at the same time be simple and user friendly to use.
Yes, this has been tested for Strength, Durability and Fatigue by SGS International Testing Facility. The KidSafeBelt has been subjected to prolonged tension and has proved to sustain an impact load of 80 kgs until the buckles could cripple. This means, we have 2.5 times factor of safety inbuilt in the design.
We have infact tested this on our own children, before we could get propose this for other children. So, you can be rest assured of the quality of the belt.
Also, we have double buckles for DOUBLE PROTECTION !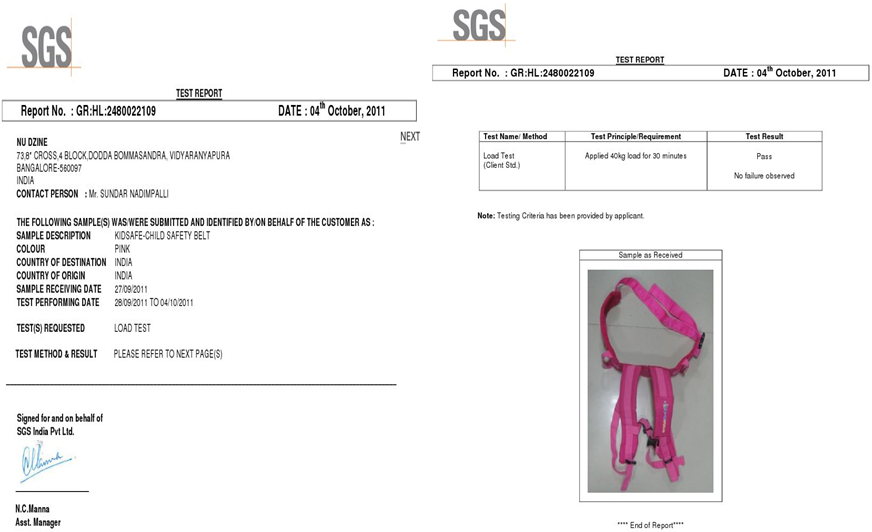 3. Is KidsafeBelt an alternative to a helmet?
KidsafeBelt is not an alternative to helmets. While helmet protects your child from head injuries, God forbid, when an accident or collision happens, KidsafeBelt is an additional preventive measure to ensure kid does not fall off the bike when you lose balance. KidsafeBelt is not a replacement or a substitute for helmets. In fact, we strongly recommend wearing helmets, along with KidsafeBelt during your ride. Along with taking precautionary measures, it's also important to be alert and careful while driving.